Are you looking for a different way to review your lesson on Joseph storing the grain?
Or would you like a fun game for a harvest thanksgiving service or school assembly?
This printable is a colourful and versatile resource. You supply the questions: we provide a novel way to score them.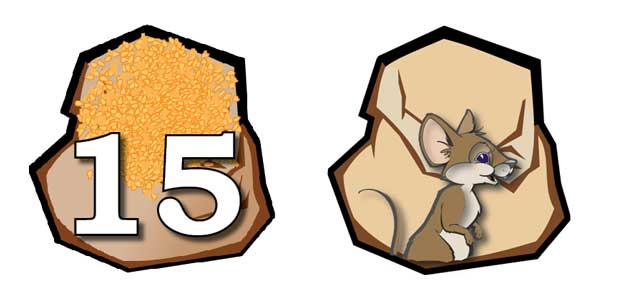 This is easy to make
Download the free PDF
Cut out the sacks
Glue the plain fronts to the scoring reverse sides
Laminate the sacks for durability
Mount them randomly on a vertical playing board
Now you have a fun game that can be played in more than one way.
How to Play
This game can be played two ways.
A. Secret Bonus
Ask a question about the lesson.
Award 50 points for a correct answer and then ask the child to select a sack.
Place the chosen sack on the side of the board designated for that team, without looking at the secret bonus (the score on the reverse).
Ask each team the same number of questions and at the end, add to the main scores the bonuses gained through the sacks. (Sacks with mice count as nothing!).
B. Store It!
This method of playing the game uses the scores on the back, as with Secret Bonus above, but has an exciting twist!
The child who answers correctly receives 50 points for the team. These points are immediately "banked" and cannot be lost.
He or she then selects as many sacks as they wish. Picking one sack at a time, the value is revealed as it is chosen and removed from the board.
At any time they can stop and "store", what they have in their hand, or they can carry on.
But if they choose a sack with a mouse, the "harvest is destroyed" and they lose all the points in their hand from that round. They do not lose the 50 points earned from answering the question.
After each turn, rearrange the sacks in a random way, so that the children will not learn where the high scoring sacks are!
The teams get the same number of questions and the winner is the team with the highest score at the end.

The PDF download contains full instructions and all the items you need for the game.
Right-click on the link below and then save the file to your computer.