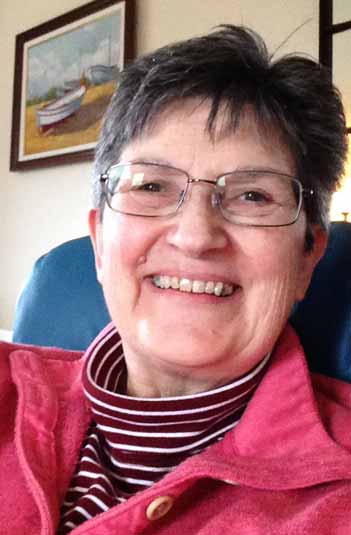 Hello! I am Lin, from Edinburgh, Scotland.
Though I was born in England, as my dad was in the Royal Air Force my family travelled widely, both throughout the UK and abroad. Every three years we would be posted somewhere new. I loved the changing locations (especially Singapore), fresh experiences and new friends.
Massive Change
But the biggest change in my life came in 1969 when a fellow student answered the question that had been really bugging me : "How can I know God better? He seems so far away."
Her explanation made such sense to me that within an hour of hearing it, I put my whole trust in Jesus Christ to forgive my sin and be the Leader of my life. God began changing me from the inside out. 
Serving God
Not long after that I knew God was asking me to serve him in a full-time capacity. So after Bible College training I joined Catherine Slight in her work with an evangelistic society – The Faith Mission.
We worked and travelled together for over forty years, ministering to kids, teens and adults, and this site is very much a joint project. I also spent many happy years writing for and editing FIRST! magazine for the Faith Mission.  
Life with a purpose
Though I am well past "retirement age" I don't feel retired! Life is still full and exciting.
I love working on this site. It is exciting to be developing biblical teaching aids with Catherine Slight and uploading them for your use.  Mind you, the technical side of this project has been a challenge!  But God has been so good, in providing a first rate tutor who is showing me how to build a WordPress site and maintain it. Thank you MaAnna Stephenson of BlogAid!
Catherine and I share an allotment (a plot for growing fruit and vegetables, rented from our city council ). This is a great opportunity for fresh air and exercise, while having a break from the computer screen! The cycle of the seasons, the rhythm of growth and harvest, and the practical problem-solving opportunities make for a healthy hobby which is both stimulating and peaceful. 
The best part of my life is knowing that I have a purpose – a passion, even! It is, with God's help, to enable Christians all round the world to have free access to visuals, lesson plans and other aids which will help them effectively reach and teach all ages for Christ. It is worth getting up in the morning for that purpose alone!