This  simple PowerPoint game is great fun, with colourful cookies and surprise bonus points.
Play it quickly as a fun stand-alone game (you can amuse the children at home over the holidays) , or use it  as an effective review game after a Bible lesson.
Here's how the Cookie Count PowerPoint Game works
Two teams play alternately.
After answering a review question correctly and being awarded points (we suggest 50 for a correct answer) the first team chooses a cookie. It is fun to have them describe the cookie, rather than simply point to it. This encourages the children's powers of observation and expression.
The PowerPoint operator then clicks once on the selected cookie.
That cookie will slide off the screen and a Bonus Score will then be revealed and should be added to the score so far.
The next team will win their chance to play by answering a review question.
They then choose their cookie and the revealed score is added to their total.
The game continues until all the cookies have gone, or the time allotted has finished.
The winning team is the one with the highest score.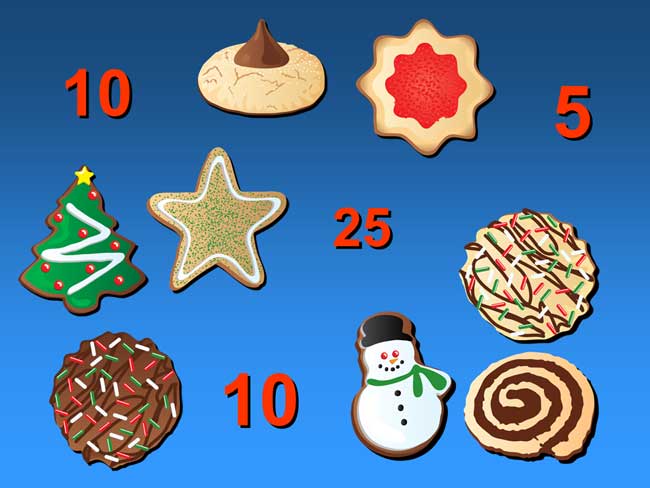 Do you need a printed version?
We now have a printable version of this free Christmas game for those who prefer the low-tech option!
Print, cut, laminate and mount. Then you are good to go! All instructions for making and playing the game are included in the download.

RIGHT-click on the link below to download the PowerPoint or printable version and save it to your computer.
Christmas Cookie Count – PowerPoint Game
Christmas Cookie Count – Printable version (PDF)
Image Credit: Cookie images by iStock.com