What's not to like about pizza and cake? This simple and colourful way of scoring your quiz will have the kids coming back for more! You supply the questions and we supply the cakes and slices of pizza for you to download – sorry, they are printable but not eatable!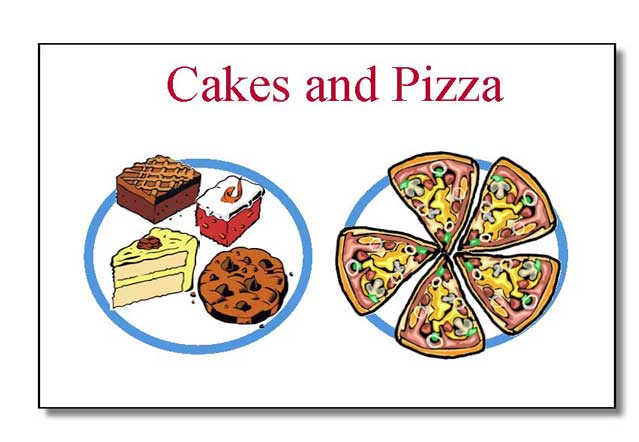 How to make game this game
Print and cut out the goodies
Laminate them or cover them with clear plastic. We recommend such protection because the kids love playing this game and months from now you will still have it looking as good as new.
Make 2 card circles ("plates"), big enough to hold the pizza on one and cakes on the other. Laminate these also. This provides a durable surface on which to attach the food items with Blu-Tack, Poster Putty or some other removable adhesive. You could also use shop-bought paper plates; some are very suitable because they have a laminated coating.
Mount the pizza onto one plate and the cakes onto the other. Then attach the loaded plates vertically to a board, so the children can enjoy seeing the progress of the game.
When to use it
This would be great to use after teaching any Bible lesson mentioning food – manna in the wilderness, produce brought back from Canaan by the spies, the feast served for the prodigal son, etc. Alternatively it could be used to enliven your review of any other lesson.
It's fun to play
The team which answers the first review question chooses to "eat" either the pizza or the cakes! They have the first question. The teams alternate. Each time a question is answered correctly ONE piece is removed from their plate. The first team to clear their plate is the winner.
Although this is a very simple way of scoring a quiz, it is colourful and appealing. It is also ideal when time is short, e.g. when doing class-to-class visits in a school. It is attractive, and appeals to kids of all ages.

Full instructions and all images are contained in the download below, which is a PDF. Right-click on the link below and save it to your computer hard drive.