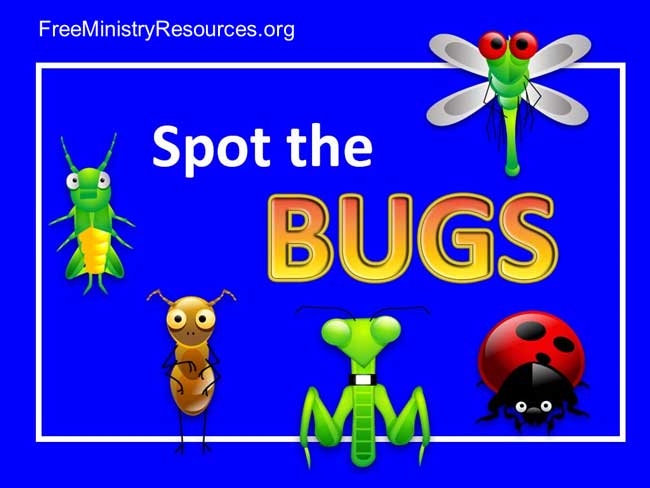 Here's a novel game to enliven your lesson review with two PowerPoint "boards". Just add your own review questions, and watch the kids having fun trying to find the bugs on one slide, while checking their progress on another! Full instructions are included in the download.
How the game works
Once you have downloaded the TWO PowerPoint files, and saved them into the same folder on your computer, you can hop between one and the other using the special ladybug button.
The playing board has the insects hidden beneath the numbered cards.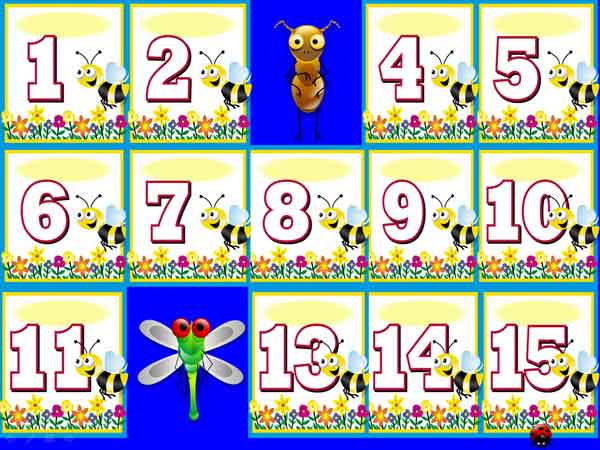 The other presentation is the score board where the bugs are checked off the list.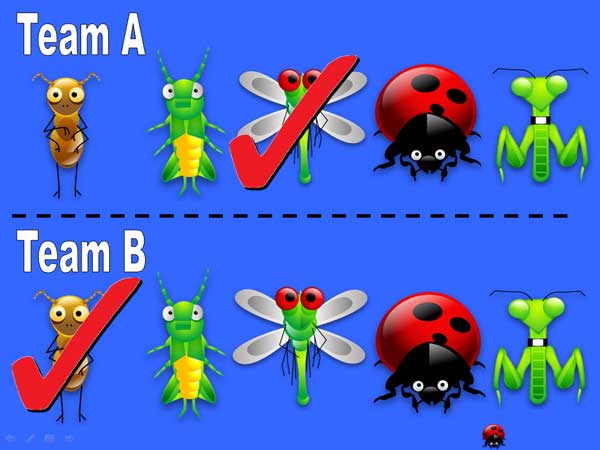 The funny little creatures in this PowerPoint game will appeal to kids of all ages! It has proved very popular in children's meetings, school assemblies and nature clubs.
The teams have to answer your lesson review questions to earn the right to choose a number and reveal the tiny bug below.
The aim of the game is to spot one each of the 5 creatures. The winners are the team that can check off all the bugs on their half of the score board (or the most in the time available).
Full instructions are provided. Once you have opened up the files and had a "play" yourself, you will see how easy it is to manage the two boards, and how much fun it will be for your children to play this game.
How to download and organise your files
If you are not used to downloading files over the internet the following steps may be helpful:
Make a new folder somewhere on your computer where you will be able to easily find it again. Name it, for example, "Spot_bugs".
RIGHT-click on one of the links below and when prompted, SAVE it to the folder you have just made.
Do the same with the other PowerPoint (.ppt) file. Remember: You MUST have BOTH these files in the same folder for the game to work properly.
To view the game, open up the first file (Spot_the_bugs_part1.ppt).
Full instructions are on slides 3 and 4. Or, you could download and read the instruction document.

Remember! You must download BOTH the above files to be able to fully enjoy the game.
Images by kind permission of Icon Shock and Snap2Objects