What do children think about Christmas?
A survey conducted in a London shopping centre showed some serious gaps in the festive knowledge of some children.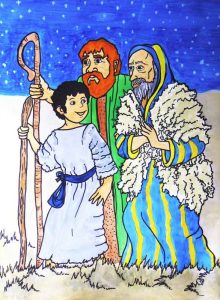 The Metro newspaper reported that the survey found: 
Half of those between 5 and 12 years olds were under the impression that December 25 is Father Christmas' birthday.
A third of the children they spoke to thought Jesus was born in the South Pole – presumably the North Pole was reserved for Santa!
Several others thought Rudolf the red-nosed reindeer was in the stable at the birth of Jesus.
The Daily Mail also spoke to some youngsters about Christmas. Some of the children's comments were interesting, to say the least!
"The Angel Gabriel is a big white fairy. He helped Mary and Joseph look after the baby – kind of like a doctor."
"Jesus was a king and he wore a crown even though he was a baby. It was a really small crown."
And of course: "We celebrate Christmas because Santa comes and gives us lots and lots of presents."
Though we smile, it is sad that so many, of all ages, have a mixed up idea of the Christmas story, or even no knowledge at all of the true meaning of Christmas and the birth of the Saviour.
Free Nativity PowerPoint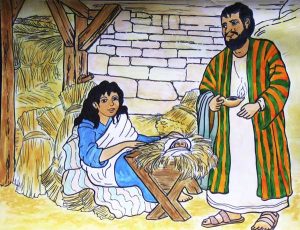 So we hope that our PowerPoint presentation will be a help as you share this simple nativity story. It was intended for children aged 5-7 years. But, of course, you can adapt the language to any age group.
We have found that little children are not the only ones who love to hear this story retold. Older children and adults alike have enjoyed this presentation, with the colourful and endearing pictures. We hope you might find it useful in whatever context you are working.
There are two downloads. One is the PowerPoint, the other is the full script, together with cues for advancing the slides. 

Right-click on the links and download them to your computer
Images on this page are based on black and white illustrations from  Ultimate Visual Aids DVD by Pauline Adams and Judith Merrell, published by Scripture Union and used by permission.
You may also like

Spelling the Real Meaning of Christmas – A simple presentation that children can do.