Would you like to involve your children in your Christmas service, but. . .
Find yourself short of time?
Have a class who are not skilled readers ?
Feel that a whole play is too much for the children to learn?
Then what you need is a simple, easy to learn Christmas item. And we have a free one ready for you to download and print!

Add this to familiar carols and other children's songs for a seasonal service.
Your class or group can share the Christmas message through this easy-to-learn presentation. With just a little practice, they will manage this colourful and memorable item very well.
What to do first
Just print out all the pages in the free PDF download. Glue a snow flake page (provided) to the back of each "gift box". Then laminate.
Here's how it works
1. Nine children each hold one of the "gift boxes", beginning with the cards held at waist height, and with the lettered side facing AWAY from the audience, snowflakes facing the audience.
They stand in correct order for spelling CHRISTMAS.
2. As their turn comes, each child lifts their card to face height, turns it so that the letter faces the audience, and recites their line. They should keep the card held at this height, so that the audience can clearly see the word CHRISTMAS as it is formed.
For little ones who know their letters but cannot read, you could have them simply hold up the cards while older children read, or a narrator. Note that the final line is said in unison by all the children.
C tells us the Lord Jesus CHRIST is his name
H says down from HEAVEN to earth he came
R says REMEMBER, God sent him one day
I says, in the INN he had no place to stay
S speaks of the STAR that shone in the sky
T tells us that there were great TIDINGS of joy
M says in a MANGER that Jesus lay
A – ANGELS and men worshipped him that day
S says, Christ came down to SAVE you and me
[All together] That's the real meaning of Christmas, you see!

The PDF download contains full instructions and all the items you need for the game.
Right-click on the link below and then save the file to your computer.
Printable PDF: Spelling C.H.R.I.S.T.M.A.S.
You may also like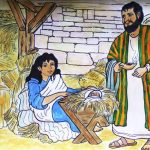 A PowerPoint presenting the nativity story and showing how Jesus can be our personal Saviour.
The Story of Christmas