I'd gathered this bunch of flowers from our rented allotment garden, but the only place I could put them at home was in a dark, shaded corner.
Touched by sunlight
Then suddenly a ray of sunlight came through one of our sitting room windows and lit up those flowers. It was still a dark corner, but each flower was touched by the light and then in turn reflected that light. This reminded me of people I'd heard of or known.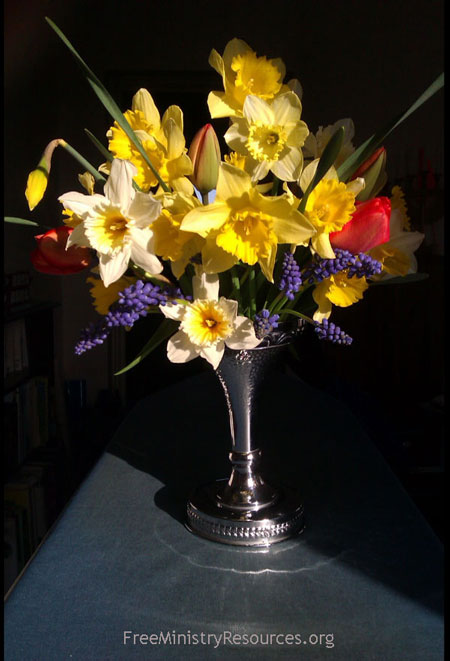 Suffering
There were those I'd worked with and no matter how long or how briefly, they had made an impact on my life. Some of them had suffered severely.
For example, Alma and Bob McAllister were missionaries in the Democratic Republic of Congo.
When rebels attacked their village, they with their three children were in grave danger of being killed.
One of Bob's best friends was shot dead. Then Bob too was shot but he survived. Alma and the children, along with others, were also targets of those killers.
They all knew severe suffering and they empathised deeply with others who were suffering in some way through hard circumstances.
Joy
I met Alma when on occasions we were involved in Bible Teaching Holiday weeks for young adults.
Despite the very sad and distressing circumstances she had experienced, this lady was one of the most joyful people I ever met. She had a great sense of humour.
When we were both on the team for a youth Bible Week in the Highlands of Scotland, I remember us almost keeling over with laughter during a break, as Alma saw the funny side of a practical situation we were all discussing.
Then again there were very precious moments when I was invited to take part in a Bible Teaching week in the south of Ireland.
On the morning I'd to travel from Edinburgh to Ireland, when I woke to my surprise I saw very clearly in my mind's eye, the face of Alma McAllister. I hadn't been thinking of her and hadn't a clue what this meant, but it was a very real experience.
God will reach out to help us
Then, when I arrived at the venue in Ireland, I was surprised to see Alma and Bob McAllister drive in at the same time. I hadn't known this but they were taking part in the meeting that night.
Alma came across and shook my hand. I was about to learn again that when we are in hard circumstances and we've been crying out to God for his help he will reach out to help us.
God revealed every detail
That evening, as I took my seat quietly in the Lord's presence, Alma came in and sat down beside me.
Then the service began. As Bob spoke there was a powerful sense of the presence of the Lord.
Now, I had told Alma nothing of my personal circumstances that were very hard, but confidential, so I couldn't disclose them. But during a time when as a gathering we were seeking the Lord, Alma suddenly began to pray for me.
As she prayed she quietly spoke words to me that made it absolutely clear that, although I had told her nothing of my circumstances, the Lord had revealed to her every detail.
The light of the Lord's presence was there touching me and dispelling the hopelessness of my situation. I actually felt the strength of the Lord pouring in to me.
At the same time I had absolute assurance that the iron-hard opposition that I was experiencing against God's will for my life would fall, and that I would be free to move ahead in his plan.
Opposition driven back
Alma was the Lord's faithful servant and the Lord had her right there where I was, and she had the anointing of the Holy Spirit to pray.
Well, the iron-hard opposition I had faced was driven back and my colleague Lin and I both had freedom to move ahead to see the fulfilment of the Lord's calling on our lives for that time.
Although the circumstances were hard then, through them I learned an absolutely uplifting truth that I treasure.
It is this – when we understand what the will of the Lord is, and faithfully keep close to him, willing to obey, then whatever opposition or discouragements come, the Lord will nevertheless bring his will to pass.
Like the sunlight on that bunch of flowers, the light of the Lord's glorious presence will shine on us, even in that dark place. And if we stay faithfully in that place, we will reflect Christ's light out to touch and help others.
---
Free Download
If you would like to develop this illustration for your own presentation, the text and images are available to download. Perhaps you have some experience of your own to share, in place of Catherine's. Or you may open up the topic for others to recount their stories.
A higher resolution versions of the image is also available for you to drop into your favourite presentation program.
Download the TEXT of Flowers in a Dark Place here.
Download the PHOTO of Flowers in a Dark Place here.
---