How can we be sure the Bible is inspired by God?
Powerful evidence for the divine inspiration of the Bible is seen in the many Bible prophecies that have already been fulfilled in minute detail. Only God himself could have revealed the future so accurately to the prophets. 
It is one thing for someone to give an accurate record of things which happened in the past, or of things which you are witnessing as you write, but it is another thing entirely to predict the future. Many Bible writers were remarkably detailed and accurate as they predicted (prophesied) what would happen in the future.
---
This post is part of a series on the Bible
♦  2 Reasons To Believe The Bible: Its Harmony and Accurate History
♦  Another Reason to Believe the Bible: Its Accurate Science
♦  A Further Reason to Trust the Bible: Its Accurate Translation
♦  Evidence that the Bible is Inspired by God: Fulfilled Prophecy – This post
♦  More evidence that the Bible is Inspired by God: Its Miraculous Protection
♦  Why the Bible is worth reading today: Its Relevance and Supernatural Impact
♦  What is in the Bible and Why?
♦  The Books Not in the Bible : The Apocrypha and Gnostic writings 
---
There are three main areas of Bible prophecy which we will consider here:
Prophecies concerning Jesus Christ
Prophecies concerning the Jewish nation
Prophecies concerning the world today
Prophecies fulfilled concerning Jesus Christ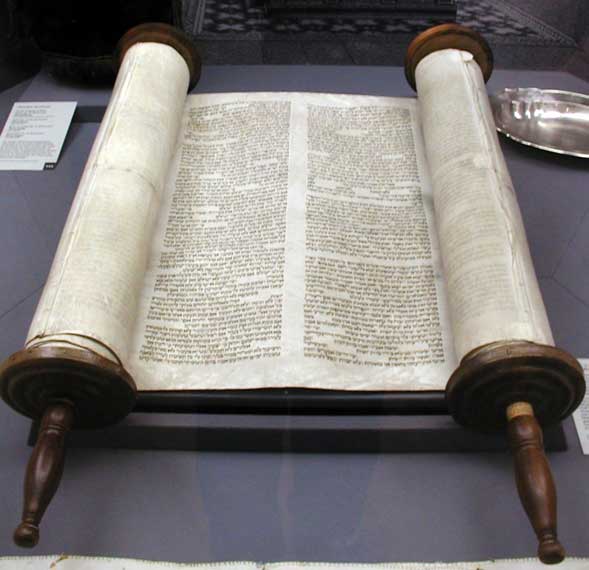 In the Old Testament, many predictions were made about the coming Messiah – the special Person who would be sent by God. It was only when Jesus came that these prophecies were fulfilled.
His birth: Messiah would be born in Bethlehem (Micah 5:2 ; Matt.2:1)
His ministry: preaching, caring, bringing freedom (Isaiah 61:1-3 ; Luke 4:18 )
More ministry: healing (Isaiah 35:5,6; Matt.9:35)
His entry to Jerusalem: on a young donkey – not a horse! (Zech.9:9; John 12:12-15)
Gambling for His clothes (Psalm 22:18; John 19:23,24)
Mocked: "Let him save himself!" (Psalm 22:7,8; Mark 15:31)
Holes in hands and feet:(Psalm 22:16; Luke 23:33) [Roman crucifixion involved nailing the man to a wooden stake by his hands and feet.]
Buried in rich man's grave (Isaiah 53:9; Matt.27:57-60 )
Come alive again after death (Psalm 16:10; John 20:11-16)
These are only a few of over 300 prophecies which came true about Jesus.
A fuller list is found on Sean McDowell's blog, under the title Is there Proof for Jesus as Messiah? 
There is a PowerPoint with presenter's notes which you can use to review or teach the contents of this post.
In the accompanying notes, the prophecies about Christ which are mentioned above are listed with their Bible references and full text.
Click here to go straight to your downloads!
Probability and prophecy 
The probability of all these prophecies coming true in ONE individual is enormous!
Dr Peter Stoner calculated the probability of even only eight prophecies being fulfilled in the one person. It was 10 to the power 17 (the figure 1 with 17 noughts after it!).
Extra notes on many prophecies about Christ, and further information on probability and prophecy are in presenter's notes, which are available to download.
In trying to picture this degree of probability, Dr Stoner came up with an illustration based on dollars and the state of Texas. We have tweaked it for the UK!
Take a number of coins equal to 10 to the power 17. Mark one of them. Jumble the pile. Place the coins side by side on the ground.
Spread them all over the UK. They would form a layer 6 feet high!
Spread them all over the Texas. They would form a layer 2 feet high.
Now ask a blindfolded man to go anywhere he likes the length and breadth of the country and with only one pick, select the marked coin.
The probability of that happening is the same as eight prophecies about the Messiah coming true in one man.
What about even more prophecies?
Stoner also considers 48 prophecies and says, "We find the chance that any one man fulfilled all 48 prophecies to be 1 in 10 to the power 157."
The notation 10 to the power 157 is the representation of the number 1 followed by 157 zeros, and it looks like this:
10,000,000,000,000,000,000,000,000,000,000,000,000,000,000,000,000,000,000,000, 000,000,000,000,000,000,000,000,000,000,000,000,000,000,000,000,000,000,000, 000,000,000,000,000,000,000,000,000000,000,000,000,000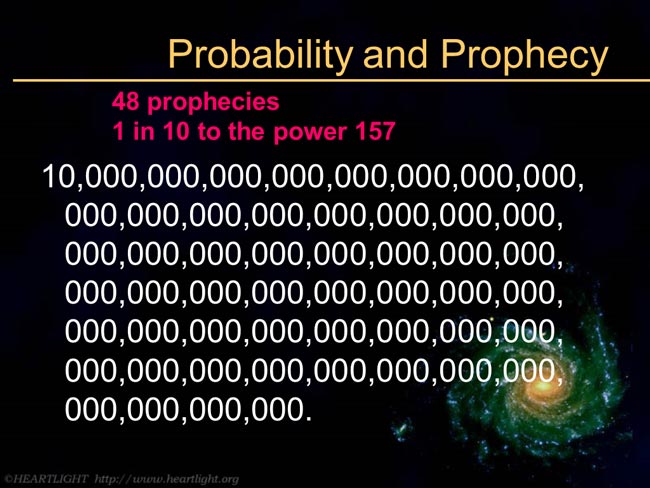 On the slides in the PowerPoint, these numbers stream in, and give a very powerful illustration of the miraculous fulfilment of all the Messianic prophecies in one man – Jesus Christ.
Many promises about what Messiah, Jesus Christ, would do for people are still coming true today. People today are being helped, healed, set free from sin, forgiven and given peace.
We have seen how prophecy has been fulfilled concerning Jesus Christ.
Now we will look at the second area:
Prophecies concerning the Jewish nation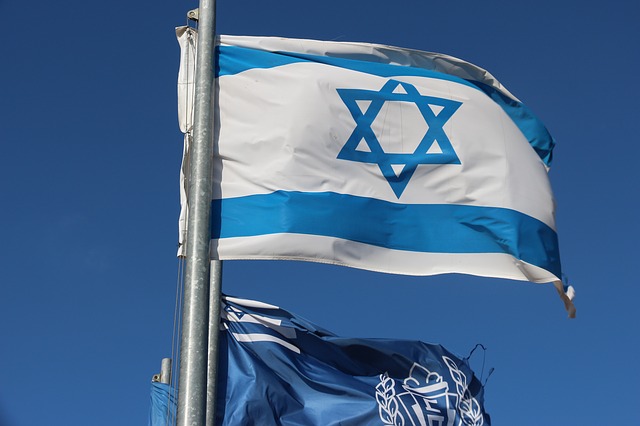 Just as tiny details about Jesus Christ have come true, so there have been prophecies about the Jewish people.
In the Old Testament they were called the Children of Israel or The Hebrews. Today we call them Jews, or sometimes we refer to their country, Israel.
Some of the prophecies about the nation of Israel came true thousands of years after they were written.
Here are a few examples.
The people of Israel would be scattered  
(e.g. Leviticus 26:33)
In AD70 the Temple in Jerusalem was destroyed and over the next 200 years Jews fled from their own country.
The Jews would return to their own land 
(e.g. Jeremiah 30:3; Ezekiel 37:21)
In 1948 Jewish people started to return to their own land. Part of Palestine was given to the Jews; they renamed it Israel and became a nation again.
The desert would be cultivated
(e.g. Isaiah 51:3)
Israeli scientists and farmers have found ways of bringing water to desert places and growing crops.
The Hebrew language would be revived 
(e.g. Zephaniah 3:9)
For centuries, Hebrew was spoken among the Jews only in synagogue services and in prayer. Now it is
The national language of Israel and is spoken daily everywhere in the country.
The third area of fulfilled prophecy in the Bible brings us right up-to-date.

Prophecies fulfilled concerning the world today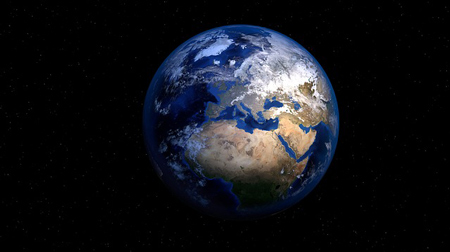 We have thought about some Bible prophecies which have already come true in the past. But it is amazing to think that in the present, in our daily news, we are hearing of the fulfilment of other Bible prophecies! It is recorded in the Bible that Jesus himself said that certain things would happen, and when they did, it would be a sign that soon he would visibly return to earth.
One prophecy, for example, says that when Jesus Christ returns to earth "every eye shall see him" (Revelation 1:7).
How can every eye see Christ the moment he returns to Earth?
Some say:
That cannot be true. How can people in Australia, America or Europe see what is happening in Israel (where the Bible says Christ will return). Even if Jesus does come back to Israel, only some people, those who are on the spot, will be able to see it.
But there is a way! Now, with satellite link-ups, any part of our world can almost instantly see what is going on elsewhere.
Here are four signs the Bible speaks of:
Earthquakes (e.g. Luke 21:11)
From 8 March 2018 to the 21 June 2018 (the time of posting) there were at least 20 earthquakes of magnitude 6 or more. These may cause a lot of damage in very populated areas. Below is a screenshot captured on the day this post was published,  to show part of this information.

It is estimated that major earthquakes, resulting in serious damage (magnitude 7 or greater) occur about 20 times a year. 
You can check recent activity, and input the magnitude you wish to see, at this site. 
Tsunami (Luke 21:25)
"And here on earth the nations will be in turmoil, perplexed by the roaring seas and strange tides."
Abnormal weather conditions (Genesis 8:22)
 "As long as the earth endures, seed time and harvest, cold and heat, summer and winter, will never cease." [Implying that as the end of the world approaches, these clearly marked seasons will break down.]
Loss of land — According to the UN, an area of fertile soil the size of Ukraine is lost every year because of drought, deforestation and climate instability.
Famines (Matthew 24:7; Mark 13:8)
The BBC reported in 2017, "The US-based Africa Center for Strategic Studies says 19 African countries are facing crisis, emergency, or catastrophic levels of food insecurity."
Wars and rumours of war (Matthew 21:6)
Details are constantly changing from year to year. So the following pages may help us to grasp the desperate state the world is in right now.
Current armed conflicts with fatalities are listed here. And here is an interactive map, showing 40 or so areas of conflict, spanning the globe.
Disease Epidemics
In 2017 and the first half of 2018 the World Health Organization issued  alerts for among other diseases – Bird flu, Yellow fever, plague, avian flu, polio, hepatitis, zika virus, Lassa fever and other diseases. 
Up to date information, and that of previous years, is available at http://www.who.int/csr/don/archive/year/en]
Signs in the sky
Thinking only of asteroids, there is a fascinating  article on the CNet.com website. Under the title Asteroid as big as a warehouse is freakiest near miss in years, reporter Eric Mack wrote:
Astronomers spotted an asteroid as big as a Walmart store or a city block just hours before it buzzed our planet Saturday.

Asteroid 2018 GE3 could be several times bigger than the meteor that exploded over Chelyabinsk, Russia, five years ago, creating a shockwave that blew out thousands of windows in the city of Chelyabinsk, causing hundreds of minor injuries.

The Catalina Sky Survey and Steward Observatory in Arizona first observed Asteroid 2018 GE3 in the early morning hours on Saturday. Less than 24 hours later, it came within about half of the distance between us and the moon, or 119,000 miles (192,000 kilometers) from the surface of the planet.

It's common for asteroids to be spotted for the very first time at this relatively close distance, but this particular space rock is among the largest ever to come that close to the surface of our planet. A couple of times a week, on average, an asteroid will come closer than the distance to the moon, but most of those are hunks about the size of a bus or maybe a house.
Economic collapse (Rev 18:9-16)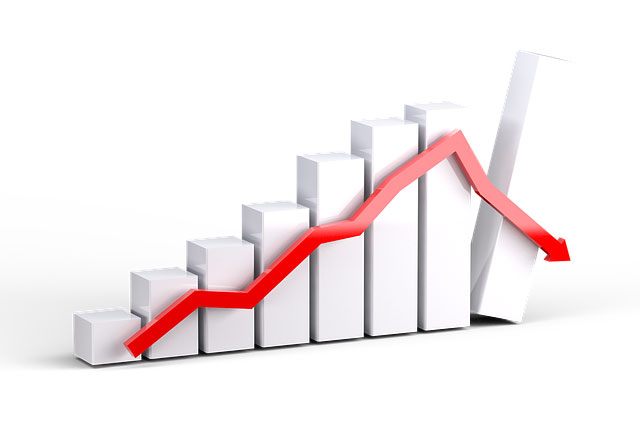 Here is a description of the response to the collapse of Babylon (representing the material and financial world).
"O great … city of power! In one hour your doom has come!'
"The merchants of the earth will weep and mourn over her because no-one buys their cargoes any more… All your riches and splendour have vanished, never to be recovered." (Rev. 18:10-15 NIV).
The cargoes that no one would buy began with luxury goods, but soon went on to everyday food, animals and vehicles.
In the UK we have seen several institutions go down and be bailed out by the government or bought out by another stronger bank: e.g. Northern Rock, Royal Bank of Scotland. Some major retailers have also gone bust.
Of course, many of the signs have already been occurring for centuries. But now it is happening with a frequency and intensity which makes us take notice, and which was predicted.
How could the Bible writers have known in such detail what was going to happen centuries later? Only if GOD inspired them!
The Bible is 100% true and 100% reliable!

Right click on these links and save the files to your computer.