Do you sometimes feel dragged down by your past failures?
Do you have painful memories of missed opportunities, mishandled situations, or wrong choices?
This weight from the past need not prevent you from moving forward into a bright future.
When I saw this photo of the rooster I felt that warm glow that comes with good memories. It took me right back to the farmhouse in Cootehill, Co. Cavan, Ireland, where Lin and I would stay each summer for a children's Bible Discovery Week.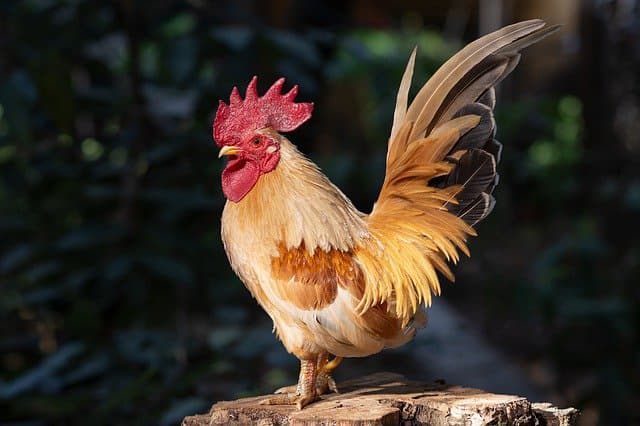 Looking out of the kitchen window, as a 'townie' I was amazed to see hens fly and land in the branches of trees–I thought they just walked around yards!
Many a time I was sore with laughing at my own misconceptions, as I went on to discover new things about roosters and hens, much to the amusement of our local friends! Good memories are such a blessing!
What memories, however, would a rooster evoke for the disciple Peter?
He had betrayed the Lord and the rooster had crowed, reminding him that Jesus had predicted this would happen.
Peter remembered and 'wept bitterly' at his own failure (Matt. 26:74,75).
For the days that followed he must scarcely have been able to bear the sight or sound of a rooster, because of the painful memories of failure this would bring.
But the Lord, in His tender love and mercy, came and stood between Peter's failure and Peter's future with a lovely personal word for him.
The angel at the empty grave brought the Lord's message to the women who were there.
"Tell the disciples and Peter, He goes before you into Galilee; you will see him there, just as he told you" (Mark 16:7).
We can only imagine what Peter felt as the implications of this message from the Lord dawned.
Perhaps there were new tears – ones of melting at the undeserved goodness of God to him. Jesus had forgiven him! He, Peter, was included in the invitation to meet with the risen Lord and share in his victory!
Through this word, it was clear that he need not be dragged down by his past failure. He could be on his way into a promising future.
We know that Peter did indeed respond to the Lord's invitation and that he went on to live to God's glory and bring encouragement, and blessing to countless others.
What memories would the rooster now evoke for Peter?
Yes, he would be reminded of the depths of his failure. But bursting through would be the glorious memories of that message from Jesus, sent in love to him at the very point of his failure.
There would be memories of how he'd realised in a new way the unfathomable depths of Jesus' love for him; memories of the glorious light that our resurrected Christ brings, with hope rising, soaring and blotting out his despair.
He had been invited to share in the overcoming resurrection life of Christ. Such memories would warm and bring a glow to Peter's heart.
The rooster that had in the past brought scarred memories would now bring sacred ones.
I expect you, like me, have your "roosters" that might provoke scarred memories of missed opportunities, mishandled situations, wrong choices and so on.
But the same message that came to Peter comes to us.
If we are grieving because of our failure, God offers to meet with us, forgive us and take us forward into victory over that failure and a glorious new future in him.
What a difference when we respond to the Lord's invitation and allow him to transform our scarred memories into sacred ones!