Would you like to reinforce your Bible teaching? Now we have another printable add-on for your review game.
You provide the review questions: we give you a fun, colourful and exciting game which is especially relevant and appealing to kids.
Influences for good
Thanks to David Attenborough and others like him, children today are very aware of the dangers to wildlife.
TV programmes dealing with rescuing abused pets and injured wild life are also helping kids understand the need to care for animals in danger, and also our pets.
It is suitable for any lesson containing an animal. For example Jesus with the donkey and foal; Noah's Ark; Elijah and the ravens that fed him; Balaam's Ass… and so on. Or it could simply be a stand-alone favourite.
Several of the animals pictured are endangered species. Others are pets which may be mistreated. The game gives opportunity to talk about such issues as our responsibilities as pet owners, and wild life conservation.
The Game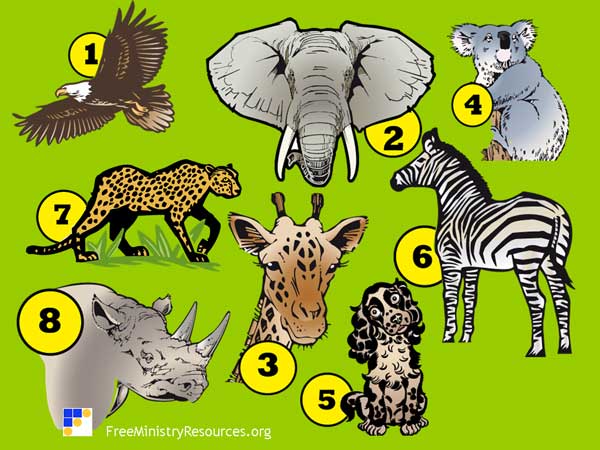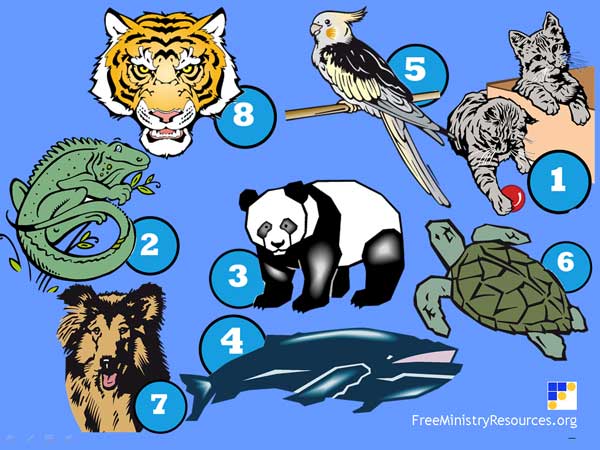 Using a pair of dice, two teams each try to rescue the animals on their board corresponding to the two numbers thrown, or the total. Full instructions are included in the download.
This game has been the cause of great excitement and a cliff-hanging finish! Sometime one team romps ahead and "rescues" all their animals except one. They are looking for the two dice numbers they need to make up that last number for the animal.
As each turn passes, and they do not find the right combination, the team that was so far behind is catching up. A great lesson on not giving up!
Our Animal Rescue game is available to download as a PDF.
Print the images, then cut out and laminate them. Mounting them onto two differently coloured boards will help the teams identify their efforts.
Right-click on the link below and then save the file to your computer.