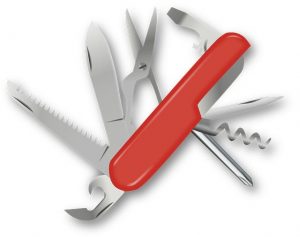 Though this site is not a Swiss Army knife, with a tool for every task, we are aiming to build a library of practical, tried and tested helps.
Having learned from our many mistakes down the years, we have tips and tools which may be a help to you. Over the years we were invited to share ideas and experiences with groups of Sunday school teachers and youth leaders. So we began conducting our Challenge of the Children seminar, which outlined principles of effectively teaching the young for Christ.
These same principles work right across the age ranges. Not only children's workers, but also those ministering to youth and adults (including seniors) have found the ideas and visuals to be valuable in their work.
These are drawn from our own experience and that of others.
Whether for children's talks, sermons or one-to-one conversations, illustrative stories are memorable and help our listeners relate to the principles we share.
Sometimes it may be that we feel the work is hard-going, or that our own spirits have become dull or dry. At such times, to read of how God has intervened for others and to ponder on his great goodness is very uplifting and faith-building.
Image courtesy of freepik.com